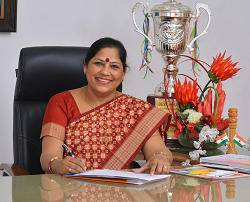 "It's the way you face life that makes the difference".
Students there is only one person who is capable to set limits to your growth; IT IS YOU.

You are the only person who can revolutionize your life. You are the only person who can influence your happiness, your realization and your success. You are the only person who can help yourself. Your life does not change when your friends change, when your parents change, when your company changes. Your life changes when you change, when you go beyond your limiting beliefs and realize that you are the only one responsible for your life.
The most important relationship you can have is the one you have with yourself. Therefore, "Believe in yourself and set your standards high".
Examine, watch, don't be afraid of difficulties, impossibilities, losses; be a winner, build yourself and your reality.
"It's the way you face Life that makes the difference!"
Nothing happens by accident, So, always have a plan, and believe in it. When schemes are laid in advance, it is surprising how often circumstances will fit in with them. Therefore, organizing is what all of you should do, and be in fine tune with direction to be on track for what you most want. Another thing to keep in mind is attitude because attitude is the key ingredient for success. It can lift us up to great heights or pull us down to the depths of failure. It can energize us to do and say all the right things at the right time or it can undermine our motivation and cause us to sabotage our own best laid plans. In fact, it is the foundation for everything that happens to us, around us or within us. Attitude determines choice, and choice determines results. Our attitude is a choice we make and there's a lot riding on that choice. While making a choice, remember that you do not compromise on quality or values that make up character because 'The Worth of life is measured by its moral value'. Have a good character, establish a reputation of being a person who can be trusted and counted on. Have pride in yourself, take responsibility for what you do. Be someone people look up to. Be a person of integrity and dignity.
Rashmi Raj Biswal
Principal
D.A.V Public School
Pushpanjali Enclave, New Delhi.