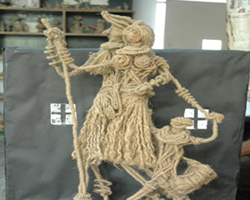 Sculpture is a great art form that can carve and shape speaking beauty out of stone and other materials. It is an age old art that expresses and gives exposure the creativity of students. It is a basic art that depends on measurement, identification and finishing.
"Clay" sculpture is the best media for the students, but the art form does not solely depend on clay as the medium.
There are different media for sculpture making. For eg: Clay. Paper Mache, Jute, Paper, Coconut, Bamboo, Wood, Wax, Leaves, Fruits, Thermocol cup, Cotton, Tea, Cement, Foil, Mango sheets, Imli sheets, Mat, Ceramic etc.
Exhibitions and Workshops are a good source of demonstrating and providing a platform for student creativity. Our school organises them from time to time.
We teach the various aspects of sculpture to our students in the school and have a lab for the purpose that teaches the basic skills of sculpting to them.
We teach the skill to our regular students as well as the students of the "Bal Shiksha Kendra" for whom it is extremely beneficial as it can adopted as a source of income by them.